TRICHOTHERAPY® - Hair Growth Treatment | Philip Kingsley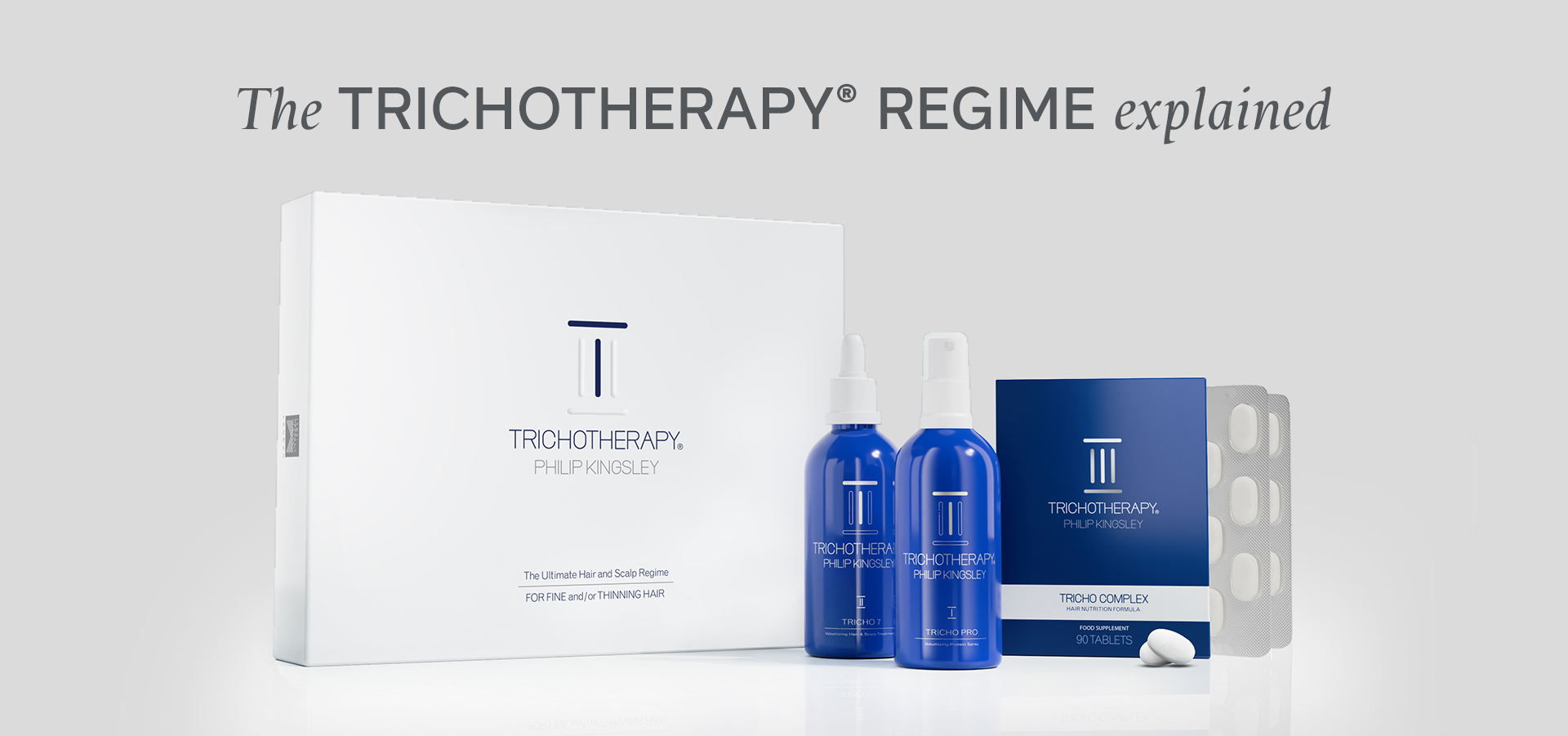 The multi-award winning TRICHOTHERAPY® Regime has been created to help maintain optimum hair and scalp health from the inside out. Used in combination with a healthy diet and lifestyle, the 3-step holistic regime creates thicker, fuller hair and encourages healthy hair growth.
Who is Trichotherapy for?
Trichotherapy is ideal for people with fine and/or thinning hair and those who are experiencing reduced volume and hair shedding for a multitude of reasons. Learn more about reasons for female hair loss here.
THE RESULTS
The regime consists of 3 innovative products working collectively to provide long term benefits to the hair and scalp and deliver visible root lift, instant conditioning, shine and overall fullness to the hair.
SUCCESS STORIES
Trichotherapy delivers life changing results. In consumer trials, 79% of women said their hair looked and felt fuller**.
**94 women – blind user trial & after only 12 weeks
The Three Steps
TRICHO PRO – Volumizing Protein Spray

TRICHO PRO Volumizing Protein Spray is a hair density formula that helps to reduce hair fall caused by breakage when combing and improve overall hair condition.Rich in primary anti-oxidants such as the Green Tea Extract, TRICHO PRO helps to moisturize and improve shine, fullness, cuticle integrity and strength.

TRICHO 7 – Daily Scalp Drops

TRICHO 7 Volumizing Hair & Scalp Treatment are daily scalp drops that help to create the optimum scalp environment for healthy hair.The innovative formula contains a unique combination of 7 trichologically selected ingredients, each known to enhance the condition of the hair and scalp and encourage healthy hair and has taken 7 years to develop, test and perfect.TRICHO 7 is rich in anti-oxidants, has soothing effects, protects against environmental degradation and immediately gives the appearance of more volume.

TRICHO COMPLEX – Hair Nutrition Formula

TRICHO COMPLEX is a vitamin & mineral supplement that has been created with over 60 years of trichological expertise and inspired by a combination of vitamins and minerals prescribed on a daily basis at the Philip Kingsley Trichological Clinics.TRICHO COMPLEX contains an exceptional mix of vitamins and minerals including the essential amino acid L-Lysine, Pantothenic Acid, Methionine, Iron, Vitamins D3, C & B12. The formula also contains Zinc, Biotin and Selenium which contribute to the maintenance of normal, healthy hair.Suitable for Vegetarians
---
Penny - Buckinghamshire
"I love my hair now and I've never loved my hair before."
Michelle - Lancashire
"Having the new hair growth is just amazing. That's been the biggest surprise for me."
Sarah - Manchester
"The overall result is just a fuller, shinier better head of hair. I'm very pleased."
Fiona - Buckinghamshire
"My hair does feel a lot thicker and fuller, most definitely. It feels, dare I say younger."
Pippa - Hong Kong
"I'm frightfully pleased with my hair, clearly there's been a long term positive impact."
Charlotte - Oxfordshire
"My hair is definitely thicker all over and I've noticed the receding patches either side of my temples are filling in!"
Pamela - Edinburgh
"Wow my hair feels ten years younger. Would highly recommend this."
---