What is Scarring Alopecia?
Scarring alopecia, also known as scarring hair loss or cicatricial alopecia, is a permanent form of hair loss, where hair follicles are gradually or suddenly replaced by scar tissue.
This can take place after radiation therapy, cosmetic burns, or trauma involving the scalp. It can also, quite rarely, be caused by an autoimmune response, where your body attacks and destroys certain hair follicles on your scalp. This is known as frontal fibrosing alopecia.
Can You Treat Scarring Alopecia?
Scarring alopecia is relatively uncommon in comparison to other types of hair loss, such as telogen effluvium and reduced hair volume.
Unfortunately, it is permanent and irreversible. However, at Philip Kingsley, our Trichologists have a great deal of experience managing it, and we are always available to discuss options with our Clients.
Who can get Alopecia Areata?
Large studies show that alopecia areata affects approximately 2% of the general population at some point in their lifetime.
Alopecia areata can affect all ethnic groups and all ages, but first onset is most likely to occur between the ages of 20 and 40. It occurs equally in men and women. It is also the most common type of hair loss seen in children.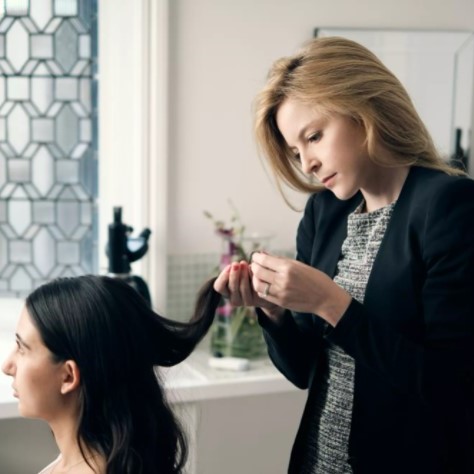 Traumatic and Cosmetic Scarring Alopecia
This type of scarring alopecia is known as secondary cicatricial alopecia (in other words, scarring alopecia resulting from external damage to your hair follicles). It can be caused by a number of factors:
Burns from cosmetic processes, such as hot combs, straightening irons and chemical straightening treatments. Although rare, permanent hair loss from these methods can either take the form of an immediate bald patch, or cumulative hair loss from repeated damage.
Trauma involving the scalp, such as a car accident or a bad fall. Damage to your scalp in this way can cause your hair follicles to be replaced by scar tissue.
Radiation therapy. If your head is exposed to radiotherapy, particularly in the treatment of brain tumours, hair follicles in direct contact are permanently destroyed.
If your scarring alopecia is caused by any of these factors, hair transplants may be a good option. Please see the information on our website if you would like to know more. You may also book a Consultation with one of our Trichologists, who will be able to advise you personally about transplant surgeons, success rates, and the most recent transplant methods.
Frontal Fibrosing Alopecia
Frontal fibrosing alopecia is a primary cicatricial alopecia. This means that it is a type of scarring alopecia resulting from an internal autoimmune condition. It starts at the front hairline and progresses, usually in a band-like fashion, towards the back of your head. Sometimes your eyebrows may also be affected. It is most common in women over the age of fifty.
Unfortunately, as with other scarring alopecias, there is currently no successful treatment for areas where scarring has already occurred. The progression of frontal fibrosing alopecia can stop spontaneously, but the hair you have already lost will not grow back.
At Philip Kingsley, we do not recommend transplants for frontal fibrosing alopecia. Because it is an autoimmune condition, there is no guarantee that the transplanted hairs will not also be destroyed.
The good news is, our expert Trichologists see a high rate of success in helping to halt this type of hair loss using a range of bespoke topical treatments. If you would like to know more, please contact us or book a Consultation. We are always happy to help.