Hello wonderful readers, and happy run-up to spring!
I'm very excited this month – not only because the days are getting longer and brighter, but because we're introducing our excellent NEW Pure Colour range for colour-treated hair:
Anti-Fade Shampoo 100% sulphate-free to cleanse without drying
Reviving Conditioner to smooth and soften brittle strands
Frizz-Fighting Gloss to seal, protect, fight frizz and give you a mirror shine
I decided to formulate these products because here at Philip Kingsley, our most important belief is that healthy hair is beautiful hair. Clients often come to me with worries about their colour-treated strands. Why is their hair dry and snapping after they dye it? What can they do to fix this? How can they prevent damage in future? And how can they reduce dreaded colour-fade?
The fact is, caring for permanently dyed hair can be a real challenge, even if you use top-quality dyes and go to the best salons. To help, I've put together the following Q&A to answer your most frequently asked questions about how best to treat your vulnerable locks.
And don't forget to try out our amazing new Pure Colour products if dry, brittle, colour-processed hair is at all a concern for you. I hope you'll love the range as much as I do.
Happy March and happy hair days,
Anabel xo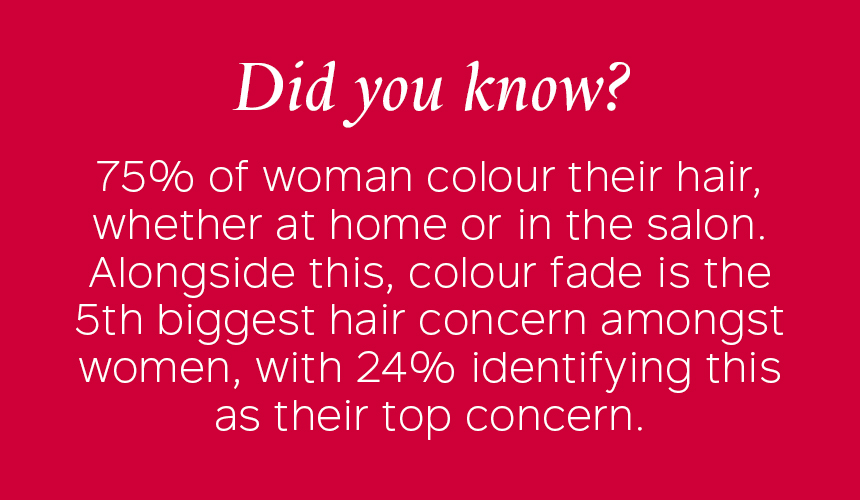 Is dying my hair bad for it?
The strong chemicals involved in colour processing do take their toll on your strands. They can render your hair dry, brittle and prone to snapping and split ends. Going from a darker shade to a lighter shade is particularly challenging for your strands, since the bleaching agents need to be stronger and are left on for longer. So colour-treated hair really will benefit from extra special care.
What exactly do permanent hair dyes do to my strands?
First, all permanent hair dyes contain an ingredient that raises the pH level of your hair. This relaxes and lifts the cuticle, so that other chemicals can penetrate the hair shaft and change your hair colour.
Next, bleaching agents oxidize the colour proteins in your hair, leaving them colourless.
Finally, the new colour pigment bonds to your hair cortex. These pigments start out as tiny molecules (monomers), small enough to penetrate the hair shaft. They react with each other to create bigger molecules (polymers), which cannot then be washed out. And voila, you have a new permanent colour.
How can I protect my colour-treated hair from damage?
As I always tell my Clients, permanently dyed hair is very vulnerable to brittleness and breakage. So it's a good idea to choose a shampoo, conditioner and styling products that offer your hair extra moisture and nourishment.
Look for products (like those in our Pure Colour range) that hydrate and then seal your strands with a protective barrier. This helps improve elasticity and resistance to breakage – and also acts to prevent your all-important colour leaching out.
How can I stop my hair colour from fading?
Colour fade is normal and inevitable, even with permanent hair dyes. It's caused by lots of factors, and is usually noticeable after 4-6 weeks. UV rays, heated hair tools, sulphates, high-pH products and having very porous hair all contribute to colour fade.
The best way to maintain your colour for as long as possible is to use products specially formulated to lock out these factors, and to lock in moisture at the same time. The three products in our Pure Colour range form a 360 regime to do just that.
What's unique about Philip Kingsley's new Pure Colour range?
Unlike other colour-treated hair regimes, the trio of products in our Pure Colour range don't simply protect and brighten your hair's hard-won hue – they actually improve the condition of your hair and scalp. This makes for stronger, healthier strands and longer-lasting colour.
Here's the science:
DAMAGE protection: The protein-rich formulas of our Pure Colour range boost the integrity, strength and elasticity of your hair. This maximises colour retention and resistance to breakage.
FADE protection: Positively charged cationic polymers in our formulas adhere to the negatively charged surface of your hair, sealing the cuticle to create an intelligent barrier. This barrier locks in colour and moisture, and blocks out damaging factors, such as UV, heat and free-radical pollutants.
SCALP nourishment: Naturally derived actives contained in our Pure Colour Anti-Fade Shampoo soothe and condition scalps that are dry and damaged after contact with aggressive chemicals used in the hair colouring process.