They are nutritional powerhouses, packed full of strand-boosting vitamins, minerals and amino acids. Let's take a look at their egg-ceptional benefits:
When it comes to protein content, egg whites are hard to beat. This is great news for your hair, since it is made of protein, and relies on proteins to grow. In fact, eggs are a 'perfect protein', meaning they contain all 8 essential amino acids needed for hair growth.
Egg protein also has high biological value. In other words, your body digests and absorbs it easily.
Oily fish may be the best-known source of Omega-3 – but it isn't the only one. Eggs also pack a punch. Omega-3s have anti-inflammatory benefits and help keep your scalp supple and in tip-top shape.
A large egg can contain up to 10% of your recommended daily intake of hair essential Vitamin B12.
Did you know that Vitamin B12 deficiency has been linked to premature greying? Yet another reason to whip up an omelette.
Egg yolks contain Folate (aka folic acid), which is needed to make red and white blood cells, and helps convert carbohydrates into energy. This is essential: hair cells are the second fastest growing cells your body produces, so your hair's energy requirements are high.
Eggs are a source of Vitamin D, and because each hair follicle on your scalp contains a Vitamin D receptor, good levels are a must for happy hair.
Egg yolks are a great source of Iodine, a mineral that is essential to thyroid function. This is important to your strands, since your thyroid gland regulates metabolism and the production of proteins – the substance your hair is made of.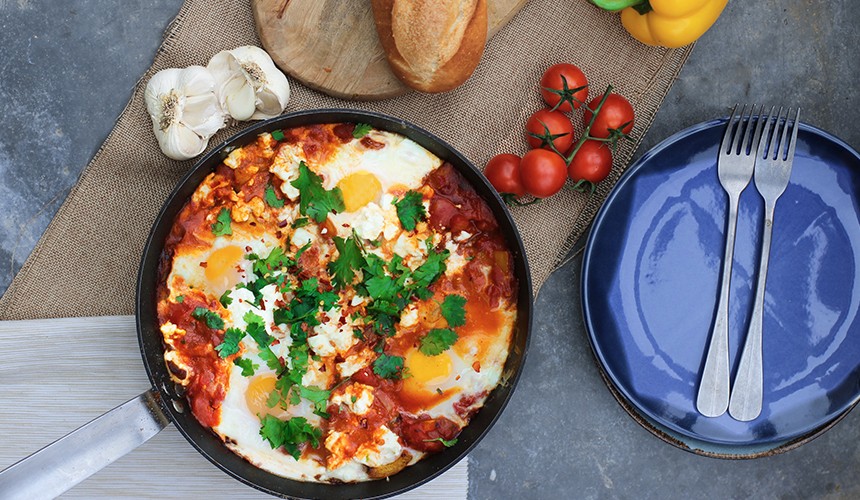 How our Trichologists like their eggs
Jane Martins
My occasional breakfast treat consists of eggs baked in avocado with serrano ham.  My go-to recipe is by Joe Wicks, The Body Coach. It's quick and convenient (taking less than 5 minutes), and looks and tastes fantastic.
Ellie Coldham
Every morning when I get to work, I usually have two boiled eggs sliced on brown seeded toast with a bit of salt and pepper.  Not particularly adventurous but seriously addictive. I like to cook them for 12 minutes to ensure they're perfectly set.
Lisa Caddy
My absolute favourite egg dish is shakshuka, where you gently poach eggs in a rich and spicy tomato base. I love it because it can double up as breakfast or brunch, and most of the time I already have the ingredients in my cupboard. My tried and tested recipe is from BBC Good Food.
Susie Hammond
My egg delicacy of the moment is to make a crust-less quiche in a ramekin. I don't follow a particular recipe - I just make it up with beaten eggs, add a splash of milk, season and chuck in whatever I fancy on the day - usually some tomatoes, mixed herbs and a little feta or chorizo.
Anabel Kingsley
This may sound strange, but my preference is for poached eggs over oatmeal or quinoa porridge (made with water, not milk, otherwise that would be gross!), mixed with some sliced avocado. It's the ultimate protein breakfast bowl.
…And let's not forget chocolate eggs… The dark variety (over 70% cocoa solids) contain anti-oxidants and iron – hair and scalp essentials!