Dermatologist Dr. Dennis Gross on why Vitamin C is a hero skincare ingredient.
A pioneer in tackling a myriad of skin concerns (think anti-ageing, acne and dryness) and founder of his eponymous, cutting-edge skincare brand, Dr. Dennis Gross Skincare, New-York based Dermatologist and dermatological surgeon Dr. Dennis Gross is a skincare aficionado.
Akin to our Trichologist-approved hair care ranges, Dr. Dennis Gross Skincare delivers dermatologist-backed skin solutions. With his background in skin cancer research inspiring the formulations of his products — including the cult Alpha Beta Universal Peels — Dr. Gross has revolutionised how we care for our complexions at home. It's no surprise then, that the brand is such a hit with beauty devotees this side of the pond too.The latest addition to the results-driven line-up is the 'C + Collagen' range, showcasing Vitamin C-infused products designed to restore lost radiance and revitalise dull skin.In celebration of the launch of our own Vitamin C innovation Vitamin C Jelly, Philip Kingsley Brand President Anabel Kingsley caught up with Dr. Gross to get his take on the importance of this star ingredient, as well as his top skincare tips.Anabel Kingsley: Tell us about the importance of using Vitamin C in your skincare routine. What makes it such a hero ingredient and why?Dr. Dennis Gross: Vitamin C is one of my favourite ingredients because it has so many benefits. It's a powerful antioxidant that protects your skin against damaging free radicals that come from pollution, UV rays and blue light from your devices. It also stimulates your skin's own production of collagen, to help smooth fine lines and wrinkles, boost radiance and diminish hyperpigmentation. Not only does Vitamin C help to lighten and break up pigmentation you might already have, but it also helps to prevent dark spots or sunspots forming in the future. Vitamin C's versatility is what makes it a hero ingredient.
Anabel Kingsley: How does it work?
Dr. Dennis Gross: Vitamin C functions in two different ways; firstly, collagen stimulation. Your skin cells have receptors for specific ingredients, and Vitamin C is one of them. Think of the receptors as doors and Vitamin C as the key. Once it connects to or unlocks a receptor, it generates energy within the cell, boosting collagen production, which is the key to younger, healthy looking skin. Secondly, it protects the skin. Vitamin C is an antioxidant that protects against damaging free radicals (think of them as arrows that poke holes in collagen) before they can do any damage to the skin.
Why is Vitamin C so effective when applied topically?
When you apply Vitamin C topically, you are delivering it directly to the skin. It is actually impossible to ingest enough Vitamin C to get an effective concentration into the skin. Applying it topically not only protects your skin against damaging free radicals, but it also helps stimulate collagen production.
Tell us more about your 'C + Collagen' range.
While the star ingredient in the range is Vitamin C, it is the full formula which strengthens the effects of it on the skin. When coupled with my energy complex (included in all the C + Collagen products), the skin cells' batteries are recharged and the skin's response to Vitamin C is even greater, with anti-ageing results amplified. One of my philosophies as a formulator, is to combine synergistic ingredients that give you better results than using each one alone.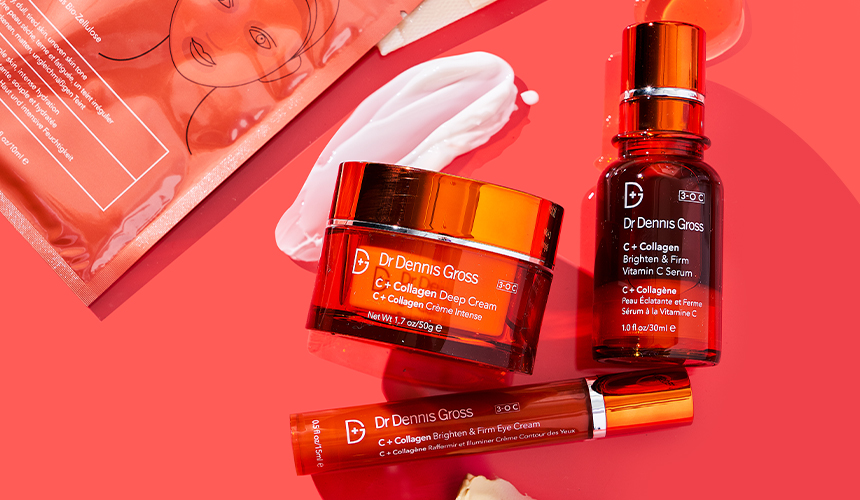 What made you want to launch a Vitamin C range?
Vitamin C is one of my favourite ingredients. It has a wide range of benefits that everyone can enjoy! The key was to increase its effectiveness by modernising the delivery systems in the product. I recommend at least a Vitamin C serum to all my patients.
Tell us more about your Alpha Beta Peel Pads. How did the idea come about and what makes them such a cult product?
I invented the Alpha Beta Daily Peels 21 years ago to allow consumers to experience the benefits of a professional peel at home. The product proved my theory at the time, that a truly effective peel must always be two steps and, furthermore, must never irritate the skin. Unlike other popular professional peels at the time, that used a high concentration of a single acid, the Alpha Beta Peels are formulated with a cocktail of multiple acids at lower concentrations, which add up to a significant acid concentration. I found that when you cocktailed acids, you could reduce irritation and avoid stripping the skin's moisture barrier. Your skin looks refreshed, radiant and glowing after just one use, and results improve as you continue to use them, which is why I think it has become such a cult product.
How can we best look after our skin, particularly as we get older?
Wearing a physical sunscreen 365 days a year is the number one way to take care of skin as you age. The sun is the number one cause of skin damage. Physical sunscreens sit on the surface, acting as a shield and reflecting the sun's rays. You should also incorporate a retinol product into your routine. Retinol is another great anti-ageing ingredient, known in the skincare industry as the gold standard for fighting fine lines and wrinkles. I prefer to use a Vitamin C serum during the day and retinol at night.
How else can we look after our skin, as well as skincare products?
Drinking enough water, exercising and making healthy choices when it comes to consuming alcohol and nicotine will help improve skin. Your skin is also affected by stress — taking time out of your day to relax will not only help you feel better, but will make your skin look better too!
What are the most common skincare conditions you treat?
I treat a lot of people with rosacea and acne; young teenagers and adults, teenage acne and hormonal acne. Struggling with acne can be very emotional – people can become self-conscious, and this plays a role in their self-esteem. Helping someone solve their skin problems and gain confidence is one of my favourite parts of my job.
What do you think about Vitamin C making its way into our hair care regimes?
I think it's a great idea! Your hair care starts with your scalp, which is skin. We know Vitamin C is great for the skin on your face, so using it on your scalp is a no-brainer. For your scalp, Vitamin C acts as an antibacterial and antioxidant protectant.
Finally, what are your top three skincare tips?
Wear a physical sunscreen every day, be prompt in beginning treatment for early signs of ageing such as crow's feet or redness — they usually get worse and become harder to treat later — and wash your face with a non-stripping cleanser every night before bed (makeup wipes don't count!)
As Dr. Gross says, Vitamin C isn't just amazing for the skin, it's powerful antioxidant properties can benefit the hair and scalp too. The skinification of hair (where hero skincare ingredients like Vitamin C cross over into our hair care routines) is one of beauty's biggest talking points, as the skin on our scalp is simply an extension of the skin on our face.
This is where our NEW Vitamin C Jelly Treatment comes into play. Our innovative, powder-to-jelly, pre-shampoo formula purifies and detoxes the hair and scalp and protects against free radical damage. The acidic nature of Vitamin C effectively dissolves away impurities to restore natural radiance and shine, and leave hair feeling super clean, soft and weightless. You'll 'C' the difference in your hair in no time!
Tell us about the science of hair health?
We often send our Clinic clients for blood tests. The most important levels to check for are Iron, Ferritin (stored iron), Vitamin D, Vitamin B12, Zinc, Thyroid levels.