Our Guide To Hair Masks| Philip Kingsley

Everything you need to know about Hair Masks
One of the best ways to transform a dry, frazzled mane is by making a hair mask a regular fixture within your regime. Here we bring you our complete guide to this healthy hair staple, as well as our top tips on getting the most out of yours.
What is a hair mask?
A hair mask is an essential part of an all-encompassing hair care routine. Akin to a face mask that rejuvenates and takes care of the skin, a hair mask intensely conditions and hydrates the hair with a much-needed injection of moisture. An effective hair mask improves hair health by nourishing dry, thirsty strands — providing an indulgent hair treatment at home. We recommend all hair textures utilise a hair mask regularly, but especially those with a dry and frizzy 'do.
Typically, a ready-made hair mask contains a combination of highly hydrating oils, as well as hair strengtheners and softeners. Recently there has been an influx of homemade, DIY recipes too, most of which can be whipped up with ingredients you have in your larder at home, like banana, avocado, eggs, oil or honey.
However, for best results, we advise opting for a hair mask comprising of proven ingredients like our Elasticizer Deep-Conditioning Treatment. Plus, a ready-made formula removes the fuss of having to measure and mix one yourself! Our bestselling pre-shampoo mask is formulated with hydrating Hydrolyzed Elastin, Castor and Olive Oils and Glycerin to deeply nourish dry hair and bring your locks back to life.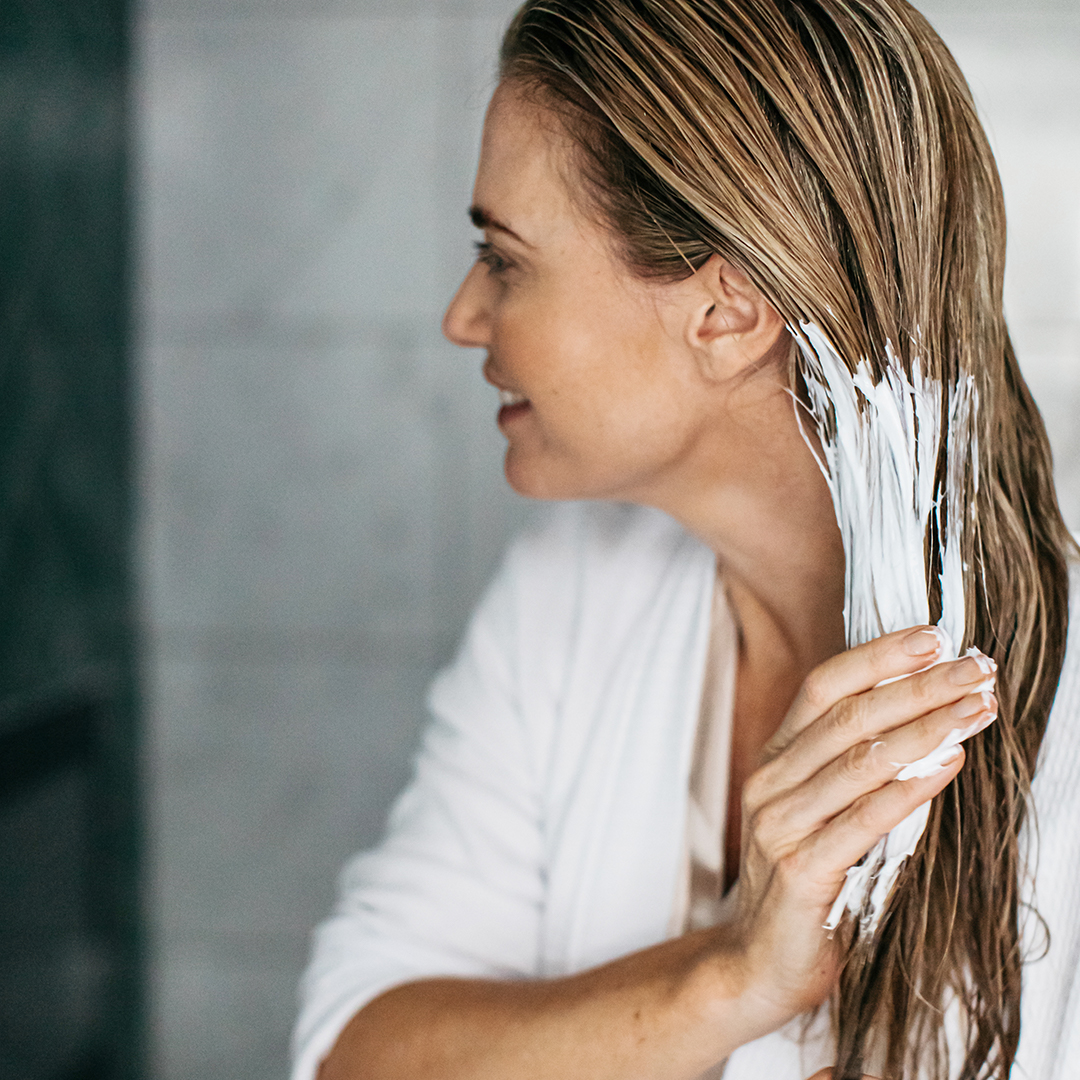 What does a pre-shampoo hair mask do?
Usually applied to dry or damp hair, hair masks are designed to restore dry, damaged locks by replacing lost moisture and lipids, with a concentrated surge of hydration. They work to intensely condition the hair and reveal soft, shinier strands — making them especially beneficial for dry and frizzy hair. Our Elasticizer delivers a rush of moisture into the hair's cuticle to help add elasticity and restore the hair's strength and stretchability, for healthy, shiny, easy-to-manage hair. 
What is the difference between a hair mask and a conditioner? Do I need both?
Absolutely! A conditioner (like our Moisture Balancing Combination Conditioner) and a hair mask both have their rightful places within your hair care routine; the main contrast lies within the timing of the application. A conditioner delivers shine and eases tangles on the surface of the hair, and is rinsed out straightaway, whereas a mask should be left on the hair for a longer period of time (anywhere from 20 minutes to overnight) to allow the active ingredients to deeply nourish and penetrate.
A conditioner is applied in the shower and closes the cuticle raised in shampooing. It helps the hair retain water and reflect light, while hair masks go deeper with richer, more concentrated quantities of ingredients like oils. A conditioner should be used every time you wash your hair (ideally daily) while a hair mask is used just once or twice a week.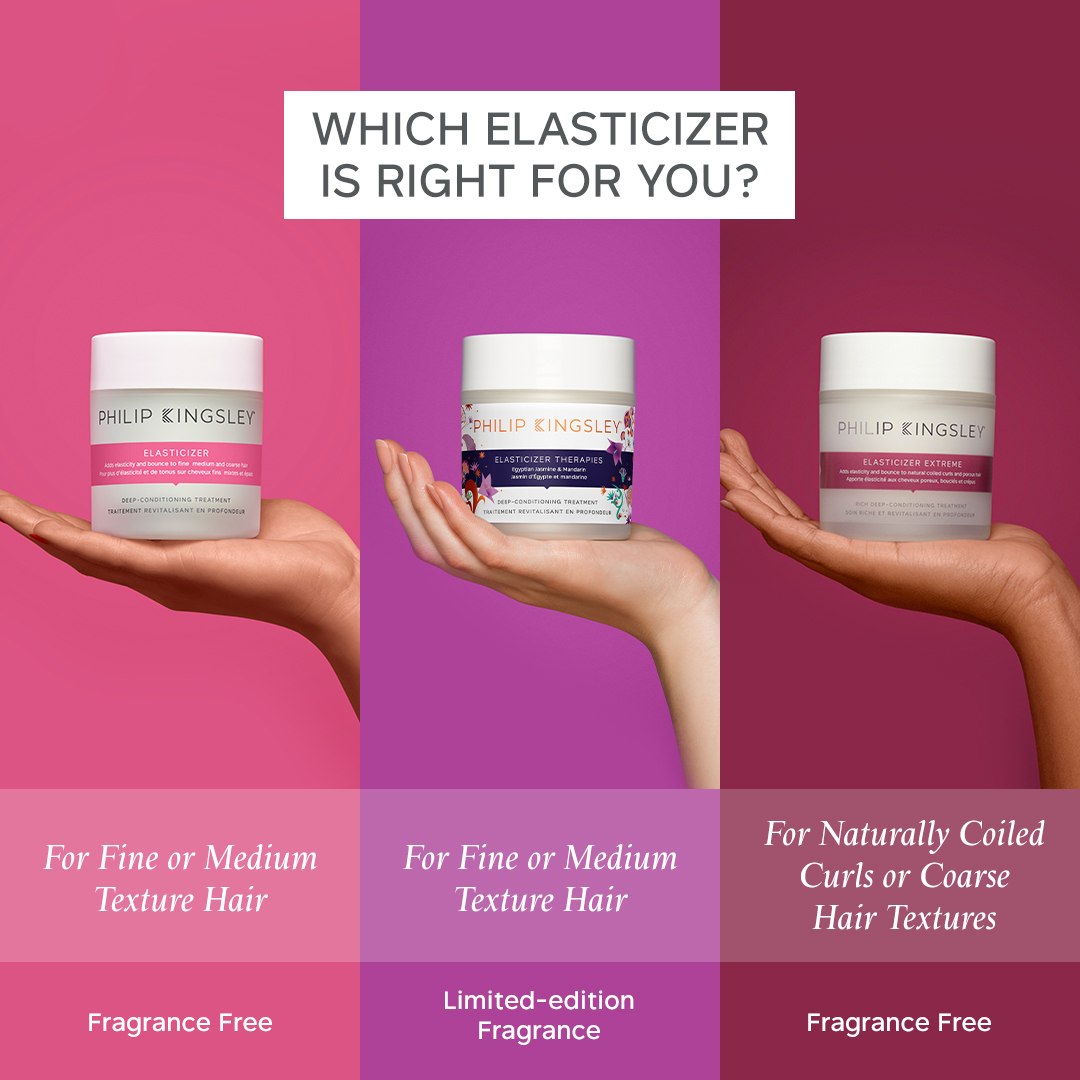 What are the benefits of using a hair mask?
Hair masks bestow a bountiful list of benefits! Formulated to intensely nourish, condition and strengthen hair, with prolonged use you'll notice added bounce, softness and shine in your mane, as well as less frizz and breakage.
What is Philip Kingsley's Elasticizer?
Elasticizer is our hero product for all hair textures. It is a deeply conditioning pre-shampoo mask that revives dry, thirsty strands in as little as 20 minutes. Just as its moniker suggests, Elasticizer adds elasticity to strands, improving hair's stretch and therefore strength against everyday breakage caused by brushing, styling and heated tools. The mask plumps strands with moisture and seals the outer cuticle with Castor and Olive Oils, but, as a pre-shampoo treatment, the excess residue is shampooed away, meaning it won't weigh down even the finest of hair. Battling frizz, dryness and dullness in one fell swoop, it's lauded for its instant and ongoing results, with one sold every minute*.
*Based on annual global sales data
What makes Elasticizer different from other hair masks?
As a pre-shampoo treatment, when applied to wet hair our mighty mask's ingredients are absorbed directly into the hair cuticle, with any residue rinsed away with shampoo. The benefit? It won't weigh strands down and is suitable for even the finest of hair textures. Most traditional hair masks are intended for use as 'leave-in' treatments, meaning the product simply sits on top of the hair, resulting in limp, lank locks.
Unlike homemade hair masks, our iconic remedy contains a cocktail of highly concentrated, conditioning ingredients, proven to deeply condition and combat dry hair
Hydrolyzed Elastin: This protein penetrates the hair shaft, increasing elasticity. Elastin is a flexible protein found naturally in the building blocks of the hair and is what gives strands an elastic effect to help them stretch and prevent breakage, for stronger hair.


Castor Oil: Helps to lock in moisture, improving hair health.


Olive Oil: High in Vitamin E and essential fatty acids which intensely moisturise and make hair look super-shiny and healthy.


Glycerin: Helps hair to retain moisture, making Elasticizer's benefits last longer.
In fact, its proven that the more you use it the better the results, as shown in our Independent User Trials. 92% said hair felt deeply moisturised and 80% agreed hair felt more elastic after four weeks weekly use. But the difference is instant too – 88% said hair felt silkier and moisturised, while 87% said tresses looked shinier after just one use.
How do I use a hair mask?
The amount of product you'll need depends on the length of your locks. Start with a small amount then keep coating the hair until the mid-lengths to ends (where moisture is needed most) are completely saturated. Check out our handy guide on how to apply Elasticizer:
Before shampooing, thoroughly wet hair and apply in sections
Work into mid-lengths to ends of hair with fingertips. Tip: If the product is instantly soaked into the hair, it must be thirsty, so keep applying more until a white coating rests on top of the hair
Cover with a shower cap or microfibre towel (this will generate warmth and enable the hair cuticle to open, so it can properly absorb the treatment's wonder ingredients) and leave on for 10-20 minutes (the longer the better!)
Rinse well and follow with the appropriate Philip Kingsley shampoo and conditioner for your hair texture — finer hair textures should double-shampoo to remove all product
How will Elasticizer fit into my existing hair care regimen?
Elasticizer is the foremost step in your regime before shampooing and conditioning. Apply liberally to damp hair and allow the mask to work its magic while indulging in a spot of well-deserved me time — whether that be reading a book, working out, watching a film, taking a bath or perhaps applying skin care.
Elevate this moment further still by multi-masking — pair Elasticizer with a face mask and one of our scalp masks, (such as our Soothing Weekly Scalp Mask) to treat your scalp as well as your strands. Our scalp solutions address all scalp issues and are exfoliating, stimulating and soothing, leaving your scalp feeling calm and refreshed. Used regularly, they encourage a healthy scalp environment and strong, lustrous hair.
Our iconic treatment fits effortlessly into your busy, day-to-day schedule too, empowering you to multi-task and mask. Our team have been known to embrace #MondayMasking as we work from home or complete a spot of housework too!
If you are time-poor or prefer to shampoo in the morning, you might find it more convenient to apply before bed. Be sure to wrap hair in a microfibre towel overnight to keep heat contained (and your pillow residue-free!). Come morning, rinse well, then shampoo (or double shampoo if you have fine hair) and condition as normal.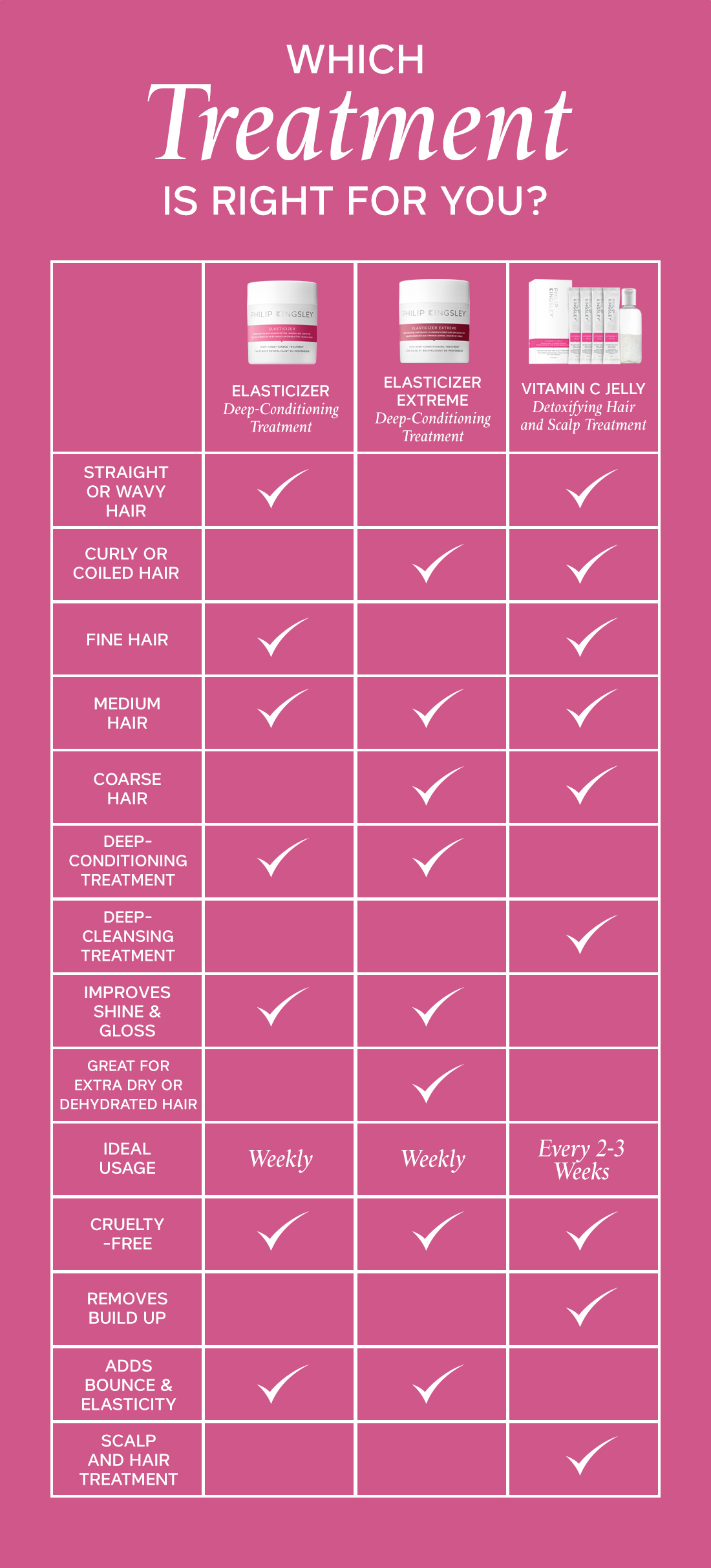 How often should hair masks be used?
To achieve the best possible results, we recommend treating tresses to a hair mask once weekly.
As an intensive treatment, there is no need to use it every day, and this would likely cause build-up and heaviness on the hair. We recommend using our Elasticizer once, or twice a week if strands are particularly parched. 
What happens if I leave it on too long?
Don't worry, you can't leave a hair mask on for too long. Your hair will simply absorb all the nutrients it needs, and any remaining residue will be cleansed away as you shampoo.
Experience the Elasticizer Effect for yourself
Find out more about Elasticizer